Sketty, Swansea –  Large Extension
Location & Context
A large Dormer Bungalow in the Sketty area of Swansea which originally had a separate Garage. However previous owners had added some flat roof extensions. These rooms had one-step floor levels which covered the internal Hallway, a Shower room and a unused Bedroom.
 The Proposal
The Clients were keen to use the footprint of the extension/Garage area as a basis for a large extension. This extension would include a new Living/Dining/Kitchen area opening up to the Garden at the rear and incorporating a vaulted ceiling with skylights. Consequently the existing Ground Floor rooms would be reused as their daily accommodation while leaving the Upper floor rooms for visiting friends and family.
The Layout 
The plan is for a large (5 x 10m approx) open space. The space will incorporate as much light as possible through a fully glazed entrance area onto a new floor which has levelled out all the stepped floors. To produce a WOW! factor there will be a vaulted ceiling using scissor roof trusses incorporating spot lighting and Velux rooflights over the whole room. Additionally a stylish new Kitchen with a centre island will be set at the far end while French Doors provide good access to the rear Garden. Finally the remaining space will accommodate a large dining table and soft seating, and lit with modern standard lamps.
​
.
Challenges
The main sewer line was shown to run across the front of the Garage. Therefore a Building over Sewer agreement had to be arranged with Welsh Water. This included a commitment to ensure the existing wall foundations are increased to protect the pipeline and the new extension. Additional materials will be required in the floor construction and along the existing walls retained to ensure the new area is sufficiently insulated.
End Results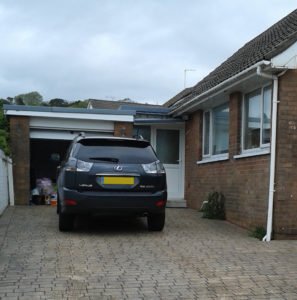 BEFORE                                                         AFTER